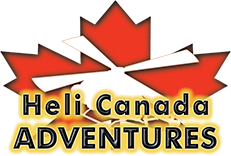 Summer Adventures
Mountain Biking, Picnics, Backpacking, Snowshoeing
Heli Canada Adventures invites you to experience and explore the vast, unchartered Canadian Rockies. Under the staff's friendly, accommodating, and experienced guidance, they will lead you out of your everyday reality and into theirs: nature at its very best. Mountain vistas that take your breath away, helicopter rides that get your adrenaline going, and the space, beauty, and fresh air to breathe.
Create lasting family adventure memories when you choose Heli Canada Adventures!
Let's go!

Our trip exceeded our expectations. It was truly an unforgettable day! Bob guided us safely and with great understanding and confidence through the most amazing vistas – places we never dreamed of setting foot on! Thank you so much!

– The Sawickis, Calgary, Alberta, Canada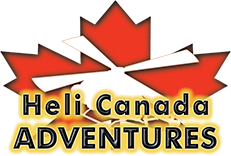 Heli Picnics
Heli Picnics in the Canadian Rockies
Your unique picnic day starts when Heli Canada Adventures' expert guides whisk you away from historic Revelstoke, British Columbia, in one of our versatile Bell helicopters. Within seconds, one of our experienced pilots will effortlessly gain speed and elevation, heading towards that special picnic on mountain slopes that few people ever see up close.
It's a whole new perspective: swaths of forest blend into lush wildflower meadows, while dark alpine tarns border startlingly white glaciers. You'll now know how it truly feels to be that eagle.
Book your picnic now

Riding in a helicopter was really exciting. I was surprised by how beautiful the top of the mountain was. We spotted a wolverine on the glacier. I was glad that Big Eddy came along. He was big and friendly, and was so happy to be with us there. Lunch tasted great and had a lot of variety. I liked learning how to walk on a glacier. I want to come back next year.

– Miles Kool, 11 years old, CA, USA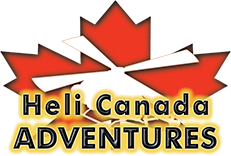 Heli Backpacking
Heli Backpacking and Hiking Adventure
On Heli Canada Adventures' backpacking trips, you'll be hiking creek crossings and alpine grass slopes, flat glacier traverses, boulder fields, scree areas, and wildflower meadows.
You'll be backpacking amid high country flora and fauna, possibly seeing caribou, bald eagles, and mountain goats, and practicing your low-impact skills as you hike. Our backpacking adventure always offers plenty of time to stop to capture your surroundings on film, or simply admire nature's profound beauty and sheer power.
Grab the adventure

Fantastic pure wilderness adventure provided by Bob Shafto and Mark Austin at Heli Canada Adventures. Great mountain scenery amplified by the cross country backpacking & no-human-trace-style camping....Great experience!

– Garry McElderry, 59 years young, Colorado, USA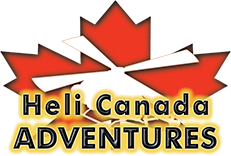 Heli Snowshoeing
Adventures in the Canadian Rockies
Today's technology has provided us with streamlined, durable, lightweight snowshoes that are a treat to strap on.
This traditional form of winter travel is now more accessible and enjoyable than ever before. We add helicopter access to the very best snowshoeing areas, ensuring that you'll be snowshoeing in pristine wilderness within minutes of leaving historic Revelstoke. Heli Canada Adventures invites you into the mystery that is the Canadian Rockies, to explore areas that could have been travelled on in this very manner thousands of years ago…
Snowshoes are ready

I had an awesome time heli-snowshoeing in the Monashees with Heli Canada Adventures. The mountains are wild and impressive and the views fantastic. This is a great alpine experience. My guide made certain I had a good time, participated in the whole experience, and did everything safely. I was impressed with Heli Canada's flexibility and willingness to meet my needs for a between-seasons adventure.

– Jenny Sanders, New Zealand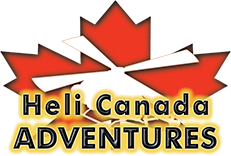 Heli Mountain Biking
We Want Your Feedback
Wonder what it would be like to mountain bike in the clouds? HCA is researching fully-guided heli mountain biking possibilities in the Canadian Rockies. Whether it's incredible descents or alpine cross-country, there is terrain to please any rider – novice or seasoned veteran. We're excited to get this heli mountain biking service up and running; we're aiming for the 2017 season, but we require your input first. We need you to answer a few questions for us, so we can tailor this new activity to you, our clients. Please complete our heli mountain biking survey, and watch things happen in 2017!
Take a Quick Survey

A British Columbia adventure not to be missed. The adrenaline rush, scenery, and technical expertise of Heli Canada Adventures can't be beat!

– Ellen Miller, New York, USA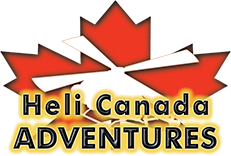 Corporate Incentives
Achieve High Performance with Incentive Programs
The capacity of individuals or a group to maintain belief in an institution or a goal – this is called "morale." A cohesive staff, one that works cooperatively to achieve company goals and stays focused on the end product, will be employees who both succeed and feel good about what they're doing.
What better way to build that sense of esprit de corps among your senior corporate staff, or to reward your top producers, than to fly them into Canada's mountains for an exclusive incentive vacation – hiking, backpacking, or mountaineering.
Ask us more

The product team that participated in this program has traveled all over the world in the past five years, but the trip we participated in was educational, fun, and long-lasting.

– Ian P. Yurdin, International Product Line Manager/Adventure Footwear, Adidas International