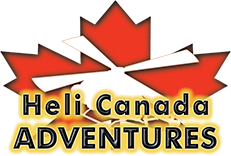 FAQ
FAQ
Here are some frequently asked questions about heli hiking and summer courses with Heli Canada Adventures. Click on the question to reveal the answer:
What time on the arrival date should I arrive at the Hillcrest?
If you can make it by 5:30 p.m., you'll make the social. If you're coming later, we'll ensure dinner is waiting for you.
How do you make up the groups?
Usually you have done this for us, by arriving as a group. If you're by yourself or a couple, we'll put you into groups of similar abilities, based on the information you give us.
I'm an experienced hiker; will I be challenged?
You bet! You'll be in a group of similar abilities and you can hike as much as the group wishes and daylight hours allow.
There are only two of us or just myself; can we participate too?
Yes, we encourage you to come and meet new friends and enjoy yourselves. We'll put you together with others of similar abilities to make up the group. Often friendships are started and are kept up for years to come after your vacation.
Can our group golf in the morning and still hike?
Yes! This is your vacation. If you're on a mountaineering package, we'll ask that you golf in the afternoon so that we can easily complete our objective for the day.
Can I bring my own gear?
Yes. We'll check to make sure it's appropriate and up to proper safety standards.
Can I wear light hiking boots on the backpacking trip?
Sorry, but you'll be miserable. As our backpacking trip demands solid and stable footwear, we don't allow light hiking boots. Full shanks and stable ankle support is required. Waterproofing is also important to add to your enjoyment on this spectacular trip.
I am not a hiker; will I still be able to enjoy myself?
Yes, you definitely will. This is part of the reason we use the helicopter. You'll find that the terrain is quite suitable for a new hiker. You may go as far as you would like and you'll be in a group with similar abilities. You'll find lots to do to keep you outside and having fun for the whole day.
Can I rent a guide and a helicopter for my own private group?
Yes, absolutely. Please contact us for the rates for your dream vacation.
I'm looking for a suitable family vacation that both parents will enjoy and so will the kids; have I found the perfect place?
You bet! Families join us and we move through the mountain terrain at a pace all will enjoy. Our youngest client was 3 years old and our oldest was 97 years old.
Can I mix up the activities while I'm with you?
Yes, you can. All that is required is letting us know. You'll be required to pay for an extra guide and the additional helicopter time. Sometimes it works out that you're only paying for the extra guide as we have the right numbers as not to add the extra flight.
My wife and I would like to bring our family and have the kids in a rock school while we are hiking. Can this be accomplished?
It sure can. Contact us and we can arrange a guide to get the kids climbing while you're hiking.
What happens if it rains?
If it's still safe to fly, we'll go out with protective rain gear. The mountains offer extra beauty when shrouded in mist and cloud. If we can't fly, we'll load up into vans and head into Glacier and Mount Revelstoke National Parks for the day or until we can fly.
What happens if we can't fly for the day; do I get a refund?
Yes, you certainly do. If we haven't used the helicopter that day, you'll be refunded your helicopter portion of the package, minus the costs incurred to transport us to the national parks and acquire the correct permits. We'll be outside in the national parks for that day and if we can fly later on, we definitely will.